So I am yet to sort out the bottom half. The Miss Selfridge trousers below just did not work on me, needed that 'in-between' size we so often refer to. Not giving up, am desperate for this look with some smart ballet pumps and even (now for some odd reason, never purchased one) a denim jacket.
Currently I need to invest in some scoop neck long sleeve tee's. I only have high necked ones which are a lot more casual. I like to layer as I am always varying in temperature depending on what I'm doing, so I need some to go under my cardy's with a nice long necklace draping down the front. Going to try H&M and New Look for those, will update once I've purchased!
Need to also spend some time in Zara. I love their range but sometimes find it too formal for my lifestyle. However, if it's good enough for Princess Kate, well what the heck, it's good enough for moi! Her navy dress she wore the day following the wedding sold out in no time. And at £49.99, who wouldn't want to part with that cash for a little bit of 'Princess'! I bought a lovely black dress at the start of the year (Frankie from The Saturdays had it in red - loved it!) so I know it can work for me, but I need a proper root around, not a fleeting glance.
I was about to share a shoe with you, but just found out it's "plastical", so decided not to. I would never make my feet sweat and suffer in plastic, especially for £40! So instead, I'll share these. Am feeling that my current 2 pairs of Summer wedges are now a little dated. They look quite clumpy, but these seem a little more delicate with the knot at the front (and as delicate as you can get with a wedge!) They come in black, orange and turquoise, and think they are a very reasonable £44.99 for real suede. Well done again River Island! (Note to self, trip to Selfridges shoe room - never seen it finished and they even have River Island shoes in there too!). Am getting too reliant on my ballet pumps, like I do my Uggs in winter, so I need to ease myself back into heels gently, a wedge is ideal. Am feeling the orange colour with nice navy turned up jeans, so I am off to try these on my un-manicured feet!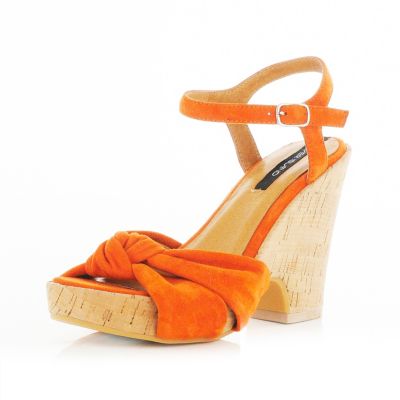 If you don't fancy getting your toes out just yet, how about these?
Have started the cull of the make-up box with thanks to the Ikea clear tray in my previous post below. All old lip glosses now safely in the bin. I love being able to see things clearly and the colours I have to choose from. Fully recommend!
Now to end on a bit of a luxurious note. If you have a birthday coming up and you need to send a subtle hint to someone, how's about this unique range of watches by Liberty. All made with Liberty's own exclusive fabrics and leather, they retail at £90. Just one below to give you an idea. Love the way it wraps around your wrist twice, a real focal point to an outfit. Ideal time to show of a watch with Summer and short sleeves coming!
PS Loving H&M's free magazine and their bargain £7.99 dresses in a fun range of prints! Go have a look!