Tried on the
River Island
wedges as per my previous blog, not so lush on my feet but were just as nice in the flesh as in the picture, search continues for an elegant pair for me!
I did however find this Chelsea Girl tunic which I loved. They didn't have my size in, but will be keeping an eye out for it to try on. Great easy piece and I am really feeling the 'orange' at the moment!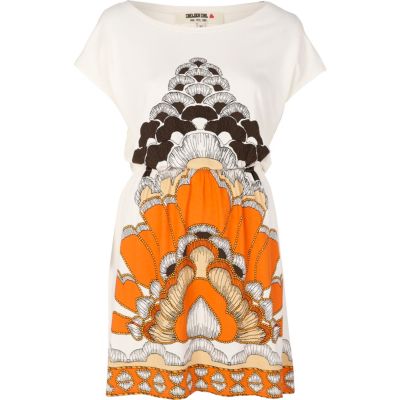 Recent purchases also include the top below from
Warehouse
. Was already a bargain at £18, but Glamour magazine have a 20% off voucher so was going to purchase that but the kind ladies in store said they had spare vouchers anyway! I wear a lot of jeans so the blues in this top goes well and makes me feel a little more Summery!
And lastly this cardy from
Topshop
. Love stripes and layering, and the chunky cotton and rolled up sleeves add weight to my upper body to balance me out!
Grab
New Looks
free magazine in store. Has a voucher for 20% off, so I am off to check out their basics and still on the hunt for some nice casual trousers.
Be back soon with a blog about a new fashion lesson learnt....from a 63 year old!